Western Australia's leading Islamic leaders back Labor and Greens political parties in  March State elections.
The WA  Muslim community leadership has been swift in giving the Premier Colin Barnett a strong slap for turning  his cheek towards  fascist Pauline Hanson's  One Nation Party .  Last week in a ground breaking move WA's leading Islamic scholars and imams after careful consideration backed  Australian Labor and Australian Greens Parties in the March State election.
Muslim political observers say that the growing and robust WA  Islamic community will not take nonsense of One Nation and their cohorts sitting down any more.  Imams have urged the congregation that as citizens  WA Muslims must exercise their vote to punish Barnett's unholy alliance with racism and anti-Islam manifesto of  One Nation party.
WA Muslim leaders Media release
Muslim religious leaders support Labor and Greens Party
29 June  2016
A  suspected extremist right wing group  fire-bombed a vehicle  and  sprayed Muslim- hate graffiti on walls of  Thornlie Mosque and Islamic School at 8.30pm last night.  This is the second attack on the school in two years.  Last  week a pig's head was  thrown at the Southern River Mosque. This unfortunate mosque has been a target of hate for over three years and up till now no arrest as ever been made!
Worshippers were inside the mosque praying
Taraweeh
.  No one was injured.  According to Police suspects were seen fleeing from the scene. WA has  extremist right wing sympathisers and home for anti- Muslim political party- Liberty Alliance.
Islamic Council of WA and Ethnic Communities Council of WA will meet  State government to discuss counter measures in light of this ugly rise in Islamophopia in Western Australia.
29 June 2016
Islamic Council of Western Australia hosted a successful Aftar Ramadan Dinner for the Muslim community at Rise Recreation Centre in Maylands. The event was well attended with State Government represented by Dr Mike Nahan, Minister for Multicultural Interests, WA police  community engagement  Unit. The  local member for Mirrabooka Hon Janine Freeman MLA and Department of Immigration (Border Force) community liaison officers enjoyed hearty meal with Muslim community representatives.
14 June  2016
Muslims of WA are in the month of Ramadan and mosques and centres are full with their evening congregation taking part in
Taraweeh prayers.
It is month of mercy, generosity and forgiveness.
24  May 2016
Two significant  mosque projects are under way in Western Australia. One is  Armadale Masjid  and the other in Kalgoorlie in the Eastern Goldfields. Kaloorlie has a great historical meaning for its the re-establishment of a mosque in the region since 1895.
This is a testament to the hard working and committed members of the Muslim community and generous donors across the nation that support this worthy cause.
Kalgoorlie Mosque known as "Masjid Quba" is appealing to West Australian community to help  re-establish a mosque in the Goldfields where once proud  Afghan camelers in late 19th century helped in the economic development of Western Australia.
Please donate generously:
Kalgoorlie Islamic Centre IncBank: Westpac BankBSB: 036125ACCOUNT NUMBER: 380312SWIFT CODE: WPACAU2S
Photography by Br Imroz Ali,  Kalgoorlie Islamic Centre Inc. 5 February 2016
First International Conference of Muslim Councils

in the West
The President of the Islamic Council of Western Australia Dr. Rateb Jneid attended the 1st International Conference of Muslim Councils in the West – a major initiative for Muslims in Western nations – in Washington, D.C., February 1-3 in Arlington, Va.
This conference was the first of its kind to bring Muslim leaders around the world together to exchange experiences and to discuss common issues of concern to our communities. A conference of this scale, uniting the voices of Muslims across the Western Hemisphere and world, is vital to our continued growth and development as a global community. The 200 attendees included representatives from Muslim Councils and their member organizations from North America, South America, the Caribbean, Australia, and Europe.
International representatives presented reports on Muslims in their respective countries.
Conference discussions focused on:
         Identifying and developing strategic priorities for the Muslim communities in the West,

        Exchanging ideas and developing strategies to address the rise of Islamophobia and anti-Muslim bigotry in the West,

        Developing ways with which to challenge and counteract the problem of violent extremism in all its forms,

        Enhancing the integration and positive contributions of Muslim communities in the societies in which they live,

        Developing strategies for the resettlement of the new waves of refugees and exchanging experiences and resources.
The Conference was a successful and productive event with participants discussing issues and working together to propose solutions. The leaders were able to come up with a set of initiatives and proposals for further deliberation. The conference resolved that:
The leaders participating in the conference have acknowledged the need and have agreed to form a Coordinating Body of Muslim Councils in the West and have formed a steering committee to implement this decision.
"We will continue to engage in civic, social, political and educational areas to better integrate the Muslims in their own countries, as well as internationally"
The historic conference was a vibrant open discussion with enthusiastic participation from a diverse set of leaders who represented the Muslim community in the West. A commitment to continue such meetings, which bring leaders together for a common purpose and a vision for our community, was agreed on by all.
Dr Rateb Jneid  
President-Islamic Council of WA
  12 January  2016  
The-16th-General-Assembly-of-the-Regional-Islamic-Dawah-Council-of-Southeast-Asia-and-the-Pacific-RISEAP-2.pdf
  Islamic Council of WA was offered an opportunity to attend the 16th General Assembly  of the Regional Islamic Dawah Council of Southeast Asia and Pacific in Taiwan.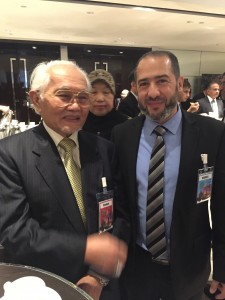 Photos© Islamic Council of WA  
1st Asia and Pacific Countries Muslim Religious Leaders' Summitheld in Istanbul  on 13-16 October 2015
  Islamic Council of WA President Dr Rateb Jneid was invited to represent Western Australia's Muslim community. This was the first time ICWA was offered a seat with regional  Muslim leaders and organisation heads in the former capital of Muslim Kaliphate of the Ottoman times. A report on Muslim community in Western Australia was presented and closer links were forged with Turkish government.     16 December  
Kalgoorlie Mosque project makes history
Kalgoorlie Boulder City Council voted in favour for East Goldfields first mosque in Kalgoorlie.  Historically the gold fields region  of  WA had three tin mosques in the 1890s so this is a historic moment for Western Australia.  The approval for a new  place of worship ought to celebrated and the council congratulated for their progressiveness and foresight.  WA Muslim community will help with fund-raising towards the mosque.   Letter to Islamic Council of WA for assistance
      11 December  
UWA Mosque toilet targeted by  religious hate
Islamic Council of WA and Ethnic Communities Council of WA condemned the latest hate crime directed at Muslim community.  A pig's head was put inside the toilet used by UWA Muslim students on Crawley campus. Police have questioned the suspect but no charges were laid.  University of UWA expressed deep concerns of this intolerance and has stepped up campus security for its staff and Muslim students. Previously a  mosque and a Muslim cemetery were targeted with pig's body parts and no arrests have ever been made by  WA police.   29  November
World Environment Day Rally   
The Islamic Council of WA represented the Muslim community and participated in a very successful the world environment day rally on Saturday. The event attracted nearly 3000 people marched through city's Hay Street mall from Wellington Square. Diverse group of faith leaders, unions, environmentalists and common people of Perth demonstrated their solidarity with world's social movements today to save the planet Earth from corporate greed and wars of Empire.  
The President of Islamic Council of WA Speech at World Climate Day
Climate-change-speech-2015.pdf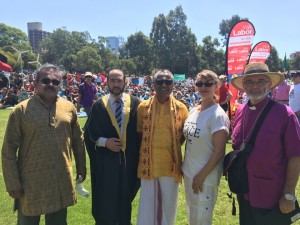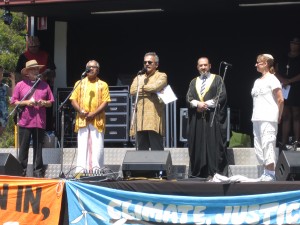 Islamic Council of WA President  invited to the First Asia Pacific Countries Muslim Leaders Summit in Turkey 2015
Special report
For the first time in the history of Islamic Council of WA  an elected  president was invited to attend a international summit Muslim Leaders. Dr. Rateb Jneid was one of selected few Muslim leaders from Australia  who was invited to Istanbul to meet Turkey's foreign affairs department officials and religious leaders. It was good opportunity to have West Australian Muslim community's diverse profile promoted to the high level audience. Turkey's new geopolitical  interests in status of Muslim minorities in the Asia Pacific region is  a positive development for Muslim communities around Australia where Turkish investment, joint  community projects and scholarships for Australian Muslims was high on the agenda.  Historically in the 16th century under the Ottoman Kaliphate, Muslim seafarers travelled as far as Java and Papua New Guinea to buy bird feathers (For sultan's turban) and exotic spices so its only natural that Turkey as the post-Ottoman state revisit its ancient relationship with the Asia-pacific region.
First Asia-Pacific Countries Muslim Religious Leaders' Summit in Turkey Report 2015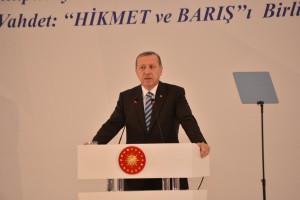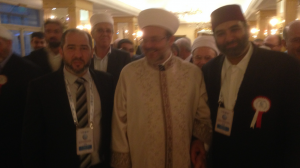 1 November  2015  
ISLAMIC COUNCIL WA MULTICULTURAL DAY
  Islamic Council WA held its Multicultural  Day at Langford Islamic College which saw great support from members of general community, local members of parliament, Office of Multicultural Interests and WA police.  The event highlighted the cohesiveness of the Muslim community and the importance of Multiculturalism and harmony. The event was a show case for the Muslim community to do more community outreach  to counter act  unprecedented anti-Muslim  fervour  in the country. ICWA Photos (copyright)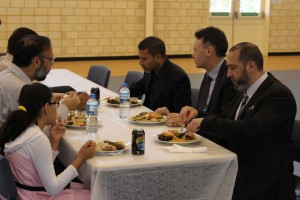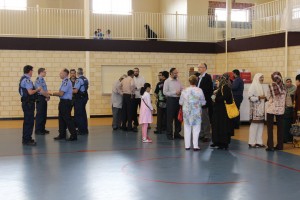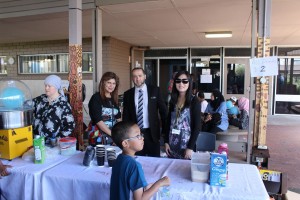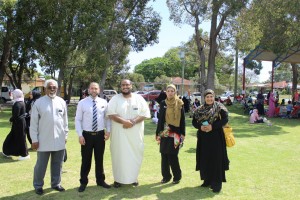 30 October 2015  
NATIONAL MOSQUE OPEN DAY
    Across the nation Muslim councils and community organisations will open their mosques to the general public. In WA, Masjid Ibrahim at Southern River will be open to the public.  Southern River mosque has been a target of vandals and hate mongers  previously. Organisers of the event and Islamic Council of WA hope that this type of outreach to the general community will help reduce Islamophopia and the fear campaign generated by Murdoch media outlets against the local Muslim community.    
8 October 2015
WA Police has issued a community alert based on latest intelligence that anti Muslim protests may occur in the vicinity of WA mosques and other community facilities on or about 10 October, Saturday.
In the interest of community harmony and public order WA police will be monitoring anti-Muslim protest groups and work closely with Muslim community to ensure the safety and security of all West Australians.
Members of the Muslim community are urged to contact local Police on 131 444   if you need Police assistance  or CONTACT your local police team on www.police.wa.gov.au and click on ' contact us'.
Courtesy of WA Police
ISLAMIC COUNCIL OF WA urges Muslim community members as law abiding citizens to remain calm and resolute at all times and report any acts of intimidation or provocation directly to Police.
29 September 2015
National Muslim Prison Board (South Africa) West Australia Workshop
Western Australia  Muslim community was offered ground breaking prisoner welfare workshop that was based on restorative justice and rehabilitation of prisoners on Islamic principles. Community organsations, Imams, Muslim legal Network lawyers, Prison visit volunteers, womens group and WA police representatives and  a police member of WA Parole Board attended this day workshop at Australian Islamic College.
It was very beneficial for all to learn the spiritual process used by learned sheikhs to help rehabilitate sentenced prisoner into model prisons.  A WA Muslim Prison Board will be established soon  by the Muslim community to ensure that Corrective Services and Parole Board have good high level interaction on prisoner rehabilitation issues.
  7  October 2015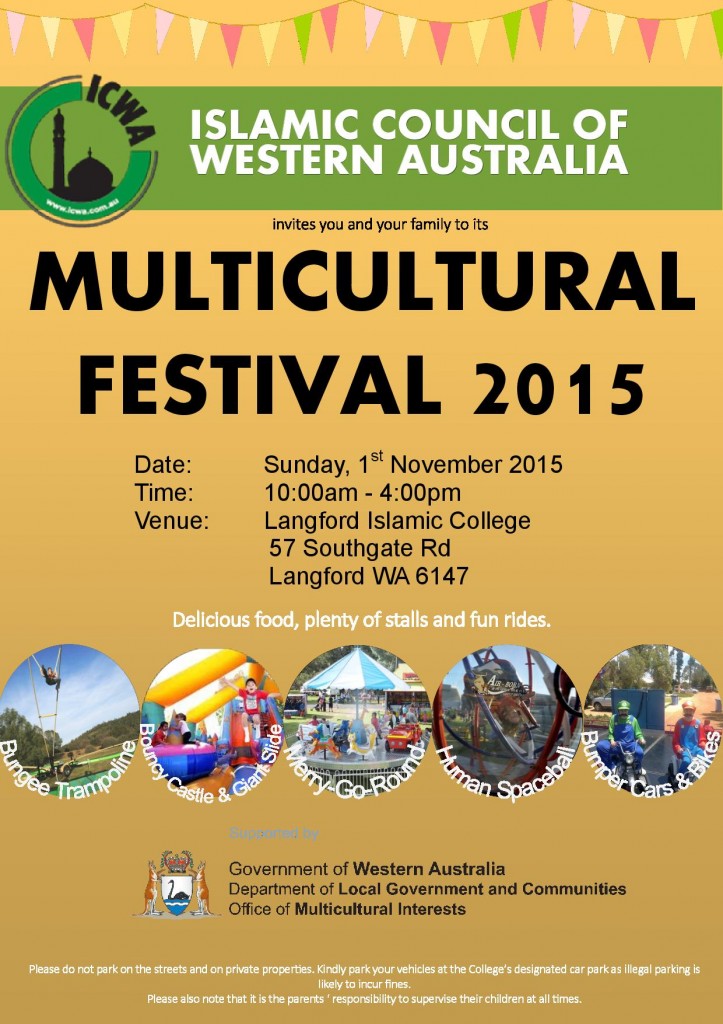 Eid Salah Times and Venues for Thursday             24 September 2015
Masjid Al Taqwa (Mirrabooka Mosque)  730am, Ladies Facilities Al Majid (Hepburn) 830am Ladies Facilities Al Hidayah Vasco Hall, 5 Vasco Place Balcatta 745am Ladies Facilities Perth Mosque 1030am Masjid AlRaman 45 Mills Rd Gosnells 830am Ladies Facilities Morley Musallah 7am Bayaan , 730 am Salah Ladies Facilities Lockridge Community Centre  cnr Lockridge and Rosher Rd 7am Ladies facilities Kings Park 730am Ladies facilities Whiteman Park 9am Ladies Facilities Turkish Mosque 730am Ladies Facilities Rivervale Community Centre Cnr Francisco & Surray Street   No Ladies Facilities  830am Rivervale Masjid ,  Eid Salah.  8:00 am  Ladies facilities Cannington Leisure Centre Seven Oak Street 730am Cannington Showgrounds 8am Thornlie Masjid lecture 715am , Salah 745am Masjid Ibrahim 640am Lecture ,7am Salah ladies Facilities South Perth Community Centre CNR Sandgate & South Terrace 9am Ladies Facilities Al Rukun Rockingham Masjid 830am Ladies facilities Indonesian Consulate 8am ladies Facilities Malaysian Consulate 8am Ladies Facilities  
2 June 2015
The Premier of WA Hon Colin Barnett invited Muslim community representatives to a second meeting at the Parliament house. The meeting discussed issues of   Muslim youth, politics of radicalisation and vandalism of religious places. WA Police Commissioner's tea invitation was well attended by Muslim organisations for the third year in running. As part of community-building this initiative was of great benefit for community policing  enabling confidence and trust  in in the local police in areas of crime prevention.    
12 April 2015
  Leader of opposition Mark McGowan and Shadow Minister for Multicultural Interests Margaret Quirk have introduced a much tougher law  known as
Criminal Damage to Places of Worship Bill 2015
targeting  offenders who  criminally damage  religious place of worship.  Under the proposed toughening of the law criminal damage whether motivated by racism or religious intolerance will attract a maximum penalty of 14 years. The opposition leader said that" recent attacks on places of worship are symptoms of a malaise which must be responded to in a timely, robust and forthright fashion." Islamic Council of WA and  Muslim community leaders urge the State government to support the proposed bill  to enable stronger enforcement of the law to help preserve  religious freedoms of all West Australians.  
3 April 2015
Muslim communities across Australia have expressed dismay at the intensity of organised anti-Muslim rallies organised by fringed elements known as " Reclaim Australia". Little is known about this "Reclaim Australia" hate group but local Police and ASIO are keeping a close eye on these types far-right xenophobic people who are seeking to provoke the Muslim community.
16 February  2015
Southern River Mosque ( Ibrahim Masjid) was targeted yet again by anti-Muslim extremists over the weekend. This time the mosque was tagged with racist neo Nazi symbols of the Klu Klux Klan ( KKK). The Muslim community leaders are increasingly frustrated that up till now no police arrests have been made given the fact the mosque has been cowardly targeted and vandalised since  last year. One of the positive outcome is that non Muslim Australians and the media are coming out to support  its  Muslim community. This is  a sign  that fair-minded West Australians  are against this cowardly and vile attack.  
22 December 2014
  Islamic Motivations organisation held a very successful religious convention over two days at Perth Convention Centre.  It was said to be the biggest and one of the best assembly of orators and speakers from the Muslim world attracting very good response from our Islamic community and naturally attracting some distaste from anti-Muslim media reports  confirming insecurities and  inherent paranoia of the Islamophobes.    
17 December 2014
The interfaith ceremony was organised by Mr Suresh Rajan to commemorate  the lives of victims of Sydney siege. Islamic Council of WA joined representatives  from Perth's diverse religious communities to pray for peace and harmony in Australia.
26 November 2014
  State opposition leader Mark McGowan has condemned attacks on religious buildings in Perth and extended his party's support to WA's Muslim community in such challenging times. Mr McGowan said that he was frustrated and angered  by these racist and  anti Islamic attacks.  Western Australia has no place for bigots who target religious minorities and it is a disgrace that hate crimes are occurring in Western Australia. The Labor leader said that anyone with information must contact WA Police.    
25 November 2014
Muslim leaders and Islamic Council of WA called for calm yesterday following hateful defilement of the Southern River Mosque.  A pig's head  and its body parts were scattered around the mosque property in a vile and cowardly attempt to cause  harm to religious sentiments of Muslim belief. Perth's mosques and a Muslim school have been soft targets of organised anti-Islam groups in recent times following  Abbot government's anti-Muslim rhetoric and Australian media propaganda against Islam.   In the last three weeks,  a Sikh temple, School and Rockingham Mosque were also targeted by hate mongers. West Australian Muslim community urged the State government to seriously look into rise in religious hatred in Western Australia. ICWA and Muslim leaders welcomed swift WA police response in this latest crime and would like to see RSPCA investigate this callous mutilation of the animal and bring the perpetrators to justice.      
12 November 2014
Senator Sam Dastyari  from New South Wales was the honoured guest of United Voice last night speaking against the rise in Islamophopia in Australia. The selected panel enlighten the audience with lively presentation and Q &A   that was stimulating with  interesting new ideas. United Voice hoped that  such proactive and socially inclusive forums will help facilitate a more  mature conversation  about Islam and Australian Muslims. Islamic Council of WA expresses its appreciation to shadow Minister for Multicultural Affairs Hon Margaret Quirk for spearheading this initiative.  
10 November 2014
10 November 2014
State opposition leader Mark McGowan Australian Labor Party( ALP) hosted Muslim  community leaders to a lunch at State Parliament House  two weeks ago as a gesture of solidarity and support for the embattled Muslim community.  Anti-Islamic sentiment  and vandalism of places of worship has no place in Western Australia  the opposition leader said. Islamic Council WA  president Dr Rateb Jneid said that non Muslim Sikh community's place of worship was sprayed with hated filled graffiti  and  ICWA hopes WA police makes quick arrests.  
27 October 2014
ABC news reported this morning that a group of men went to the federal parliament and protested against the federal government's decision  that lifted the controversial ban on Muslim visitor's head dress, the Burqa. These men dressed in Klu Klux Klan head cover, helmets and burqa failed to make a point and is nothing but a  sickening joke for fair minded Australians .
Australian Federal Police is investigating this group  who have made a crude anti-Islamic stand at the people's parliament. Muslim community  organisations, AFP and ASIO are  aware and are monitoring these hate-filled political parties and extremist groups.
25 October 2014
Mosques in Perth opened their doors to the general  community as  show of  good will  towards our diverse non-Muslim communities on Saturday. The Mosque open day event was well organised with Southern River Mosque attracting good television coverage of  its  work carried out to promote harmony in the community.  This was a splendid effort given that it is at time when Muslim properties were vandalised and hate graffiti sprayed on Muslim properties last week. Islamic Council of WA extends its appreciation for all the hard work carried out our Mosque committees, WA Police and Muslim associations.
22 October 2014
State heads of Department of Immigration and Border Protection and Australian Customs and Border Protection Service invited members of Islamic Council of WA executive committee to a meeting to outline developments in the border protection legal framework in light of new legislative changes under way. The meeting looked at ways to strengthen federal government's  relationship with Australia's Muslim community.
21 October 2014
The plan to ban the Muslim burqa at federal parliament has been overturned because it was revealed in a federal parliamentary inquiry that  NO proper authorisation, Cabinet decision, or ASIO assessment was ever requested by the decision maker.
ABC reports that Speaker of House of parliament's decision to ban was relied on a false and an unsubstantiated paranoid idea generated by a journalist and a police officer stationed at the federal parliament house at the time.
Latest news on the lifting the ban on Burqa  ( Canberra Times 20 October 2014)
19 October 2014
Police are investigating graffiti and offensive anti-Islam tagging  around a Muslim school in Thorneli and Canning Mosque in Welshpool. This  hate crime comes at a time when Australia is once again experiencing anti-Muslim hysteria stroked by a  right- wing the Abbot government. Islamic Council WA condemns such cowardly attacks and wants the perpetrators arrested and punished by the law.
  18 October 2014
 Perth city's busy Murray Street mall become a rally cry on Saturday afternoon against the tide of Islamophopia in Australia stroked by Abbot government.
Universities Guilds, Labor movement, peace activists,  Islamic Council WA and indigenous Australians gathered to condemn that rise of far-right, religious hatred and war mongering perpetuated by the right wing Abbot government.
A small group of anti Islam hate mongers numbering less than 20 dressed in black under facial concealment with highly offensive placards were silenced by boos from ordinary Australians. This was  one of the moving moment of the protest.  This racist and anti Muslim group were effectively  issued Move-On- Notice by Police.
The WA police and city's surveillance room  did a superb job  in keeping things under control. Media circus were there too. Some media such as the Sunday Times and Left Weekly were credible and some purported 'journalist's looked  so  fake and laughable resembling Hollywood- type wanna be spies  filming a peaceful rally.
  Photograph: ICWA
          15 October 2014 Under Abbot government the resurgence of anti-Islam fervour has shown its ugly head once again. WA universities guild, student unions, peace activists and Islamic Council of WA invite all peace loving and progressive Australians to say NO! to religious hate towards fellow Australian Muslims.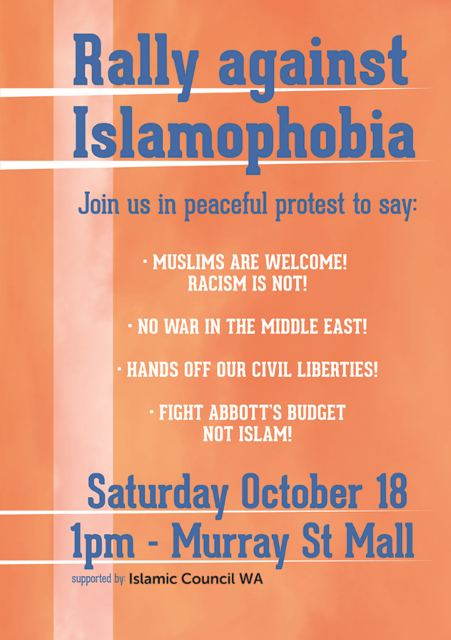 5 October 2014 Thousands of  West Australian Muslims celebrated Eid Ul Adha festivities over two days across Western Australia marking   a Day of Sacrifice culminating  with the end of annual Hajj pilgrimage. The President of Islamic Council WA  Dr Rateb Jneid sent his best wishes to Muslim community that have endured a challenging time in the last three months amidst constant fear mongering  and Islam bashing by federal politicians.   The Premier of Western Australia Hon Colin Barnett   (MLA) sent his best wishes on behalf the government of Western Australia to the WA Muslim community.
Letter from Premier Colin Barnett [ EID MESSAGE]
  2 October 2014 The Premier Hon Colin Barnett MLA met representatives from WA Muslim community yesterday for the first time since introduction of new federal anti-terror laws and joint AFP-ASIO security operations against small groups in the Muslim communities of NSW and Queensland. The meeting was to allay fears and concerns of the Muslim community of WA that they are not unnecessarily survilled  or  targeted by spies and the police. Isolated incidents of embarrassment and abuse against visible Muslim women were reported in WA and the Premier was worried about this development. The exclusion of WA Muslim community from federal government's 'community consultation' regarding the new anti-terror laws over the last two months was mentioned. "As part of WA community Muslim West Australians have a big role to play in demonstrating a positive image of Islam rather being victimised by negative media portrayals  and its moral panics about Muslims"   said the President of ICWA.  Office of Multicultural Interests  (OMI) hand -picked Muslim community  representatives said that they want to see the State government provide  more police security to Muslim institutions from threats of  possible attacks from Far- right Neo Nazis and Hate groups.       29 September 2014   Western Australian Premier Colin Barnett will meet  representatives of the Muslim community next week to reassure State government support for social inclusion and harmony for all Western Australian citizens. Premier will address the concerns of the WA Muslim community in light of  new national security laws targeted at Australian Muslim citizens as  evident in recent anti-terror  AFP-ASIO -State police operations in Sydney and Queensland.   25 September  2014 The Abbot government has managed to get the new national security legislation pass through both houses of federal parliament with full support from the Labor opposition and Palmer United Party. Australian Security Intelligence Organisation is a big winner in this bolstering of  new anti-terror laws and this new spying powers will have a big impact on freedoms of Australian society.     23 September 2014 This information is provided courtesy of Muslim Legal Network and Australian Muslim Civil Rights Advocacy Network. Please obtain legal advice from a criminal defence lawyer if you require legal representation.
23 September 2014 In light of recent  anti-terror ASIO-AFP- State Police joint operations in New South Wales and Queensland  Muslim State Councils and community advocacy organisations have issued urgent communique  to its Muslim members to take extra precaution against potential  religious or racially motivated violence. Please remain calm and do not be provoked and report all provocations  or acts of criminal violence  to WA Police on
131 444 (000 Emergencies only)
8 September 2014
Islamic Council of WA  hosted a Muslim community information forum on the proposed new National Security Legislation last night.  Event was well attended by concerned community leaders, advocates,  youth and Muslim civil society groups that expressed their displeasure at the Federal Government's lack of transparency regarding the  proposed laws aimed at  Australia's Muslim community. More grass roots consultative meetings are planned in conjunction with other States and Territories.
  3 September 2014   Australian National Imams Council  condemns  Australia's renewed military intervention in Iraq without  Federal Parliament's authorisation.
ANIC-OPPOSES-MILITARY-INVOLVEMENT-IN-IRAQ.pdf
Islamic Council WA endorses  Muslim Legal Network's submission [ Inquiry into the National Security Legislation Amendment Bill ( No.1) 2014  to Parliamentary Joint Committee on Intelligence and Security.
MLN   Birchgrove Legal_Final_Submission_12.8.14.pdf-FINAL11.pdf
  1 September 2014
 The West Australian reported on Monday that Dr Anne (Azza)  Aly was targeted by Australian Defence League and their neo-Nazi associates in a hate campaign because of her religious faith and sympathy for Islam .
Dr Aly is a Muslim and a counter terrorism analyst at Curtin University who heads the People Against Violent Extremism (PAVE) a private enterprise that studies all forms of extremism in the political or religious ideologies.
She has attracted criticism from both Muslim and non Muslim sectors for her outspokenness. It is unfortunate and rather cowardly that she is targeted in such a manner by extremists and rednecks from the KKK.
  22 August 2014 Media hysteria and Abbot government's  manipulative political strategy to divide the Australian muslim community on the  new anti-terror laws  is backfiring. Grass root Muslim civil, state Islamic councils groups across the country and  human rights lawyers have  criticised and condemned the rush to upgrade national security laws in a climate of media- generated fear campaign.
ABC Radio  AM interviews  Sister Silma Ihram from the Muslim Women's Association on 22 August 2014.  [ click on link below]:
Australian Muslim community rejects Abbot's anti-terror law plan
        Sydney Muslim Radio interview with Lawyer on proposed anti-terror legislation
Sydney Muslim radio interviews Lawyer on the proposed anti-terror laws targeting Muslim community
  8 August 2014 Islamic Council of WA invites friends and families to Eid Celebration Fete at Langford Islamic College.                         Photographs from the Eid celebration Fete at Langford Islamic College.                 Photos:  © Langford Islamic College  2014 8 August 2014
Islamic Council of WA expressed its  horror today that Abbot -led liberal national government has once again played cheap Zionist politics by targeting the Australian Muslim community with new anti-terror legislation under a climate of fear mongering.  Leading Muslim organisations and responsible  religious leaders have condemned this authoritarianism that is not only risky for the nation and but reduces Muslim Australians to second class citizens status.
5 August 2014
Abbot government backtracks on Racial Discrimination Act 18C changes but pushes for tough anti-terror laws
WA Muslim community and multicultural groups had a sigh of relief this afternoon as news broke from Canberra that the Cabinet overruled a overzealous Attorney General George Brandis's plan to repeal section 18C of the race discrimination Act. This is a major humiliation for the Attorney General who once said in federal parliament that it is a right to be a bigot."
However to keep him happy the Abbot government will follow United Kingdom, USA and its Western friend's footsteps with its own tough anti terrorism laws to counter Islamic terrorism blessed  by the Australian National Imams  council.
Australian Muslim leaders deny silence but accuse Abbot of hypocrisy
Terror threat exaggerated- Human Rights Groups
Australian Islamic Imams combat home-made Jihadists
29 July 2014
Liam Ducey from WA Today News  and Goldfields Islamic Community Centre Managers report that City of Karlgoorlie Boulder has approved the construction of Kalgoorlie Mosque last night amidst stiff opposition from red neck and Islam hate groups.
The  Council voted 6-5 to approve the the mosque with the Deputy Mayor casting the last vote after the  councillors vote was  tie at 5-5!
 The locals were encouraged by Islam hate groups from United States and Melbourne based far right fascist Zionist organisations such as Q- Society, Australian Defence League 'Patriot Leagtue' and social media Muslim haters that poisoned the minds of some Kalgoorlie locals.
For WA this is a good sign that good sense has prevailed and three cheers goes to City of Councillors of Kalgoorlie  Boulder! for standing up to and defeating bigots.
Click on link below  for latest news on Kalgoorlie Mosque
Moon sighting confusion ,Eid- ul- Fitr, and Muslim community
Eid ul Fitr  is  celebrated today  in some parts of WA amidst confusion whether moon was sighted last night over Australian skies. No new moon was sighted in Australia. Reports from South Pacific Islands of Fiji was used to announce the sighting of new moon for Australia.
Majority of mosques and centres will wait for sighting of the moon  this evening and complete their 30 days of fast to end Ramadan tonight in accordance to Prophetic traditions. Eid-ul-Fitr is tomorrow for this group of Perth Muslims.
  9 July 2014
Ramadan welcomed with piety and prayers
In keeping with tradition we see Ramadan is observed with piety, charity, forgiveness and self reflection by our West Australian Muslim community. Mosques and centres are filled with evening worshippers and prayers offered for the unfortunate victims of global conflict and dispossession.  The Qu'ran is also read and completed by Muslims reflecting the religiosity of  the Islamic community.
Click on link:
Kalgoorlie Mosque project received unnecessary abuse from usual suspects,  Anti-Islam Far Rights groups and ADL supporters from Victoria on social media. Local politicians and councillors  demonstrated  level headedness and leadership in the matter. Islamic council WA thanked the local councillors for their support and look forward to a good and fair outcome for everyone in the Goldfields region.
  29 June 2014
Junaid's 'Jihad'  news report
The West Australian Newspaper's sensational and alarmist report about Noongar Muslim Junaid Thorne's online Islamic lectures failed to arouse much critical media interest.
The Junaid Thorne  story had very scant objective reporting on Channel 7 news and ABC Online however, it  is fortunate that only The National Indigenous Television News (NITV NEWS) continues to give a balance report on the Thorne Brothers since last year.
Tabloid right-wing newspapers such as Melbourne's Herald Sun and The West Australian have given media exposure to Mr Junaid Thorne's outrageous online diatribe with good reason. Mr Thorne is a student of Shariah law  having studied in the Kingdom of Saudi Arabia for many years. He considered a threat because of his political and religious views thence  for this reason he is monitored by national spy body ASIO , AFP and local state police as reported in the news by the Foreign Minister  Julie Bishop today. WA Imams, ICWA and Aboriginal elders will have no choice but to engage with Mr Junaid to help him rehabilitate his  views.
  22 June 2014
 Langford Islamic College Perth hosts world class Qu'ran reciters
World class Qu'ran reciters  showered Perth's beautiful  night with pristine recitation to the awe of local Muslims at Langford Islamic College. What a night! the event saw learned Shaikh Abdurrahman Sadien, Shaikh Ishak Danis and Shaikh Ezzat Rashed recite with such great beauty that left  many weeping in the audience.
Shaikh Abdul  Hafeez Makki from Makkah Mukarramah and a scholar of Hadith also made his presence felt and he added to the rich constellation of learned scholars who was respectfully received  by Perth Muslims as they prepare for the holy month of Ramadan.  All donations went to Canning Sulemaniye Masjid and event was organised by Turkish Islamic Association of Western Australia.
 Minister for  Citizenship, Multicultural Interests, Energy, Hon Dr Mike Nahan's letter of support on behalf of State Government to WA Muslim community  outlining  State government's response to threats from  Far-Right extremist groups against the Muslim community in WA.
  5 June 2014
Letter from Hon Dr Mike Nahan Minister for Citizenship and Multicultural Interests in support of Muslim community
Western Australian Police Officers Morning Tea function with the Muslim Community
28 May 2014
In keeping with  community engagement relationship Commissioner of Police Dr Karl O' Callaghan APM invited representatives of Muslim community to a morning tea at Maylands. The event was very well organised and well attended by religious leaders and police officers from various commands.  School children recited Holy Qur'an,  inspirational speeches by the Police Commissioner,  officers in the Police service and Sheikh Yahya Ibrahim were highlights of the morning. The Commissioner  stated that  Muslim community is an integral part of Society and a part of its crime fighting strategy and he also welcomed the young in the Muslim community to  consider joining the WA Police Service as a career.
Official Opening of Southern River Mosque (Masjid Ibrahim)
22 May 2014 Mosque  Trustee  and religion leader Sheikh Burhaan Mehtar  cordially invites the public and friends to the official opening of Southern River Mosque  on Saturday 31 May 2014.  The function starts at 10:30 am and finishes by zhur prayer time. Lot 1526, Leslie Street Southern River WA.   (Lunch is served).  
 Round Table Meeting to counter right-wing racist extremism
21 May 2014
Islamic Council of Western Australia, Muslim stakeholders, lawyers and Ethnic Communities Council of WA held a roundtable meeting with WA Police Service, Office of Multicultural Interests and Equal Opportunity Commission representatives last night. The meeting discussed strategies and police action to counter threats from neo-nazi and right-wing racist extremism in Western Australia. The meeting was well received and very good support came from Hon Liz Behjat (MLC) from the Liberal-National government side and Hon Margaret Quirk (MLC) from the Labor opposition party. A follow up meeting is planned with WA's ethnic community delegates and religious leaders for a community harmony project coordinated byICWA and ECCWA.
Click on Link to read Hon Liz Behjat  (MLC) address to State Parliament on 13 May 2014 denouncing far-right extremism:
Legislative-Council-HON-LIZ-BEHJAT.pdf
Click on link to view YouTube Video Hon Liz Behjat (MLC) address to State Parliament on 13 May 2014 denouncing far-right extremism:
HON LIZ BEHJAT (MLC) CONDEMNS FAR-RIGHT EXTREMIST AUSTRALIAN DEFENSE LEAGUE
Anti-Islam push fuels ethnic fear,  The Sunday Times 27 April 2014 p.20.
Sunday Times _ ADL 27 April 2014  
 Human Rights and Law Reform advocacy
29 April 2014
Islamic Council of Western Australia (ICWA) joined other Western Australian religious organisations and ethnic groups in strongly opposing the proposed  repeal of section 18C of the  Racial Discrimination Act 1975 (Cth) " Racial Hatred Act 1995 (Cth)."
Muslim organisations are concerned that repeal of section 18C  will enable racists to openly vilify one's religious or cultural sensitivities without fear of criminal prosecution or civil action.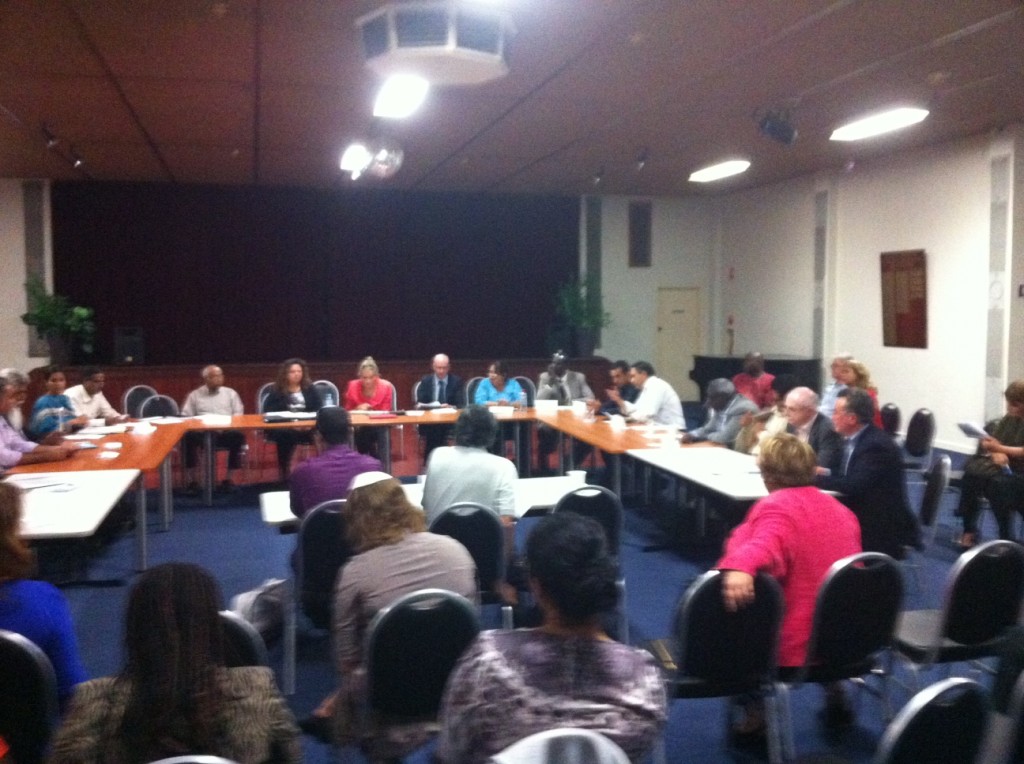 Organized by  Federal Member for Perth Alannah MacTiernan and Michelle Rowlands Shadow Minister for Citizenship and Multiculturalism Federal Member for Greenway