Allah give him a complete shifaa
(اللهم رب الناس مذهب البأس اشفي اخونا محمد انت الشافي لا شفاء إلا شفاؤك شفاء لا يغادر سقما )
Islamic Council partnership with Sutherland soccer club for our Youth.
Eid prayer at A Ameen College
Photography by Br Imroz Ali,  Kalgoorlie Islamic Centre Inc. 5 February 2016
First International Conference of Muslim Councils

in the West
The President of the Islamic Council of Western Australia Dr. Rateb Jneid attended the 1st International Conference of Muslim Councils in the West – a major initiative for Muslims in Western nations – in Washington, D.C., February 1-3 in Arlington, Va.
This conference was the first of its kind to bring Muslim leaders around the world together to exchange experiences and to discuss common issues of concern to our communities. A conference of this scale, uniting the voices of Muslims across the Western Hemisphere and world, is vital to our continued growth and development as a global community. The 200 attendees included representatives from Muslim Councils and their member organizations from North America, South America, the Caribbean, Australia, and Europe.
International representatives presented reports on Muslims in their respective countries.
Conference discussions focused on:
         Identifying and developing strategic priorities for the Muslim communities in the West,

        Exchanging ideas and developing strategies to address the rise of Islamophobia and anti-Muslim bigotry in the West,

        Developing ways with which to challenge and counteract the problem of violent extremism in all its forms,

        Enhancing the integration and positive contributions of Muslim communities in the societies in which they live,

        Developing strategies for the resettlement of the new waves of refugees and exchanging experiences and resources.
The Conference was a successful and productive event with participants discussing issues and working together to propose solutions. The leaders were able to come up with a set of initiatives and proposals for further deliberation. The conference resolved that:
The leaders participating in the conference have acknowledged the need and have agreed to form a Coordinating Body of Muslim Councils in the West and have formed a steering committee to implement this decision.
"We will continue to engage in civic, social, political and educational areas to better integrate the Muslims in their own countries, as well as internationally"
The historic conference was a vibrant open discussion with enthusiastic participation from a diverse set of leaders who represented the Muslim community in the West. A commitment to continue such meetings, which bring leaders together for a common purpose and a vision for our community, was agreed on by all.
Dr Rateb Jneid  
President-Islamic Council of WA
  12 January  2016  
The-16th-General-Assembly-of-the-Regional-Islamic-Dawah-Council-of-Southeast-Asia-and-the-Pacific-RISEAP-2.pdf
  Islamic Council of WA was offered an opportunity to attend the 16th General Assembly  of the Regional Islamic Dawah Council of Southeast Asia and Pacific in Taiwan.  
ICWA President at the regional Islamic meeting in Taipei  
1st Asia and Pacific Countries Muslim Religious Leaders' Summit held in Istanbul on 13-16 October 2015 Islamic Council of WA President Dr Rateb Jneid was invited to represent Western Australia's Muslim community. This was the first time ICWA was offered a seat with regional Muslim leaders and organisation heads in the former capital of Muslim Kaliphate of the Ottoman times. A report on Muslim community in Western Australia was presented and closer links were forged with Turkish government.
16 December Kalgoorlie Mosque project makes history Kalgoorlie Boulder City Council voted in favour for East Goldfields first mosque in Kalgoorlie. Historically the gold fields region of WA had three tin mosques in the 1890s so this is a historic moment for Western Australia. The approval for a new place of worship ought to celebrated and the council congratulated for their progressiveness and foresight. WA Muslim community will help with fund-raising towards the mosque. Letter to Islamic Council of WA for assistance Letter to Islamic Council of WA 11 December UWA Mosque toilet targeted by religious hate Islamic Council of WA and Ethnic Communities Council of WA condemned
16 December Kalgoorlie Mosque project makes history Kalgoorlie Boulder City Council voted in favour for East Goldfields first mosque in Kalgoorlie. Historically the gold fields region of WA had three tin mosques in the 1890s so this is a historic moment for Western Australia. The approval for a new place of worship ought to celebrated and the council congratulated for their progressiveness and foresight. WA Muslim community will help with fund-raising towards the mosque. Letter to Islamic Council of WA for assistance Letter to Islamic Council of WA 11 December UWA Mosque toilet targeted by religious hate Islamic Council of WA and Ethnic Communities Council of WA condemned the latest hate crime directed at Muslim community. A pig's head was put inside the toilet used by UWA Muslim students on Crawley campus. Police have questioned the suspect but no charges were laid. University of UWA expressed deep concerns of this intolerance and has stepped up campus security for its staff and Muslim students. Previously a mosque and a Muslim cemetery were targeted with pig's body parts and no arrests have ever been made by WA police. 29 November World Environment Day Rally The Islamic Council of WA represented the Muslim community and participated in a very successful the world environment day rally on Saturday. The event attracted nearly 3000 people marched through city's Hay Street mall from Wellington Square. Diverse group of faith leaders, unions, environmentalists and common people of Perth demonstrated their solidarity with world's social movements today to save the planet Earth from corporate greed and wars of Empire.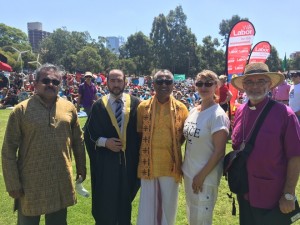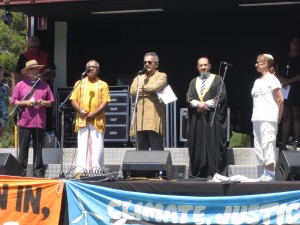 Islamic Council of WA President invited to the First Asia Pacific Countries Muslim Leaders Summit in Turkey 2015 Special report For the first time in the history of Islamic Council of WA an elected president was invited to attend a international summit Muslim Leaders. Dr. Rateb Jneid was one of selected few Muslim leaders from Australia who was invited to Istanbul to meet Turkey's foreign affairs department officials and religious leaders. It was good opportunity to have West Australian Muslim community's diverse profile promoted to the high level audience. Turkey's new geopolitical interests in status of Muslim minorities in the Asia Pacific region is a positive development for Muslim communities around Australia where Turkish investment, joint community projects and scholarships for Australian Muslims was high on the agenda. Historically in the 16th century under the Ottoman Kaliphate, Muslim seafarers travelled as far as Java and Papua New Guinea to buy bird feathers (For sultan's turban) and exotic spices so its only natural that Turkey as the post-Ottoman state revisit its ancient relationship with the Asia-pacific region. First Asia-Pacific Countries Muslim Religious Leaders' Summit in Turkey Report 2015
Islamic Council WA held its Multicultural Day at Langford Islamic College which saw great support from members of general community, local members of parliament, Office of Multicultural Interests and WA police. The event highlighted the cohesiveness of the Muslim community and the importance of Multiculturalism and harmony. The event was a show case for the Muslim community to do more community outreach to counter act unprecedented anti-Muslim fervour in the country.
Across the nation Muslim councils and community organisations will open their mosques to the general public. In WA, Masjid Ibrahim at Southern River will be open to the public. Southern River mosque has been a target of vandals and hate mongers previously. Organisers of the event and Islamic Council of WA hope that this type of outreach to the general community will help reduce Islamophopia and the fear campaign generated by Murdoch media outlets against the local Muslim community. 8 October 2015 WA Police has issued a community alert based on latest intelligence that anti Muslim protests may occur in the vicinity of WA mosques and other community facilities on or about 10 October, Saturday. In the interest of community harmony and public order WA police will be monitoring anti-Muslim protest groups and work closely with Muslim community to ensure the safety and security of all West Australians. Members of the Muslim community are urged to contact local Police on 131 444 if you need Police assistance or CONTACT your local police team on www.police.wa.gov.au and click on ' contact us'. Courtesy of WA Police ISLAMIC COUNCIL OF WA urges Muslim community members as law abiding citizens to remain calm and resolute at all times and report any acts of intimidation or provocation directly to Police. 29 September 2015
National Muslim Prison Board (South Africa) West Australia Workshop
Western Australia Muslim community was offered ground breaking prisoner welfare workshop that was based on restorative justice and rehabilitation of prisoners on Islamic principles. Community organsations, Imams, Muslim legal Network lawyers, Prison visit volunteers, womens group and WA police representatives and a police member of WA Parole Board attended this day workshop at Australian Islamic College. It was very beneficial for all to learn the spiritual process used by learned sheikhs to help rehabilitate sentenced prisoner into model prisons. A WA Muslim Prison Board will be established soon by the Muslim community to ensure that Corrective Services and Parole Board have good high level interaction on prisoner rehabilitation issues.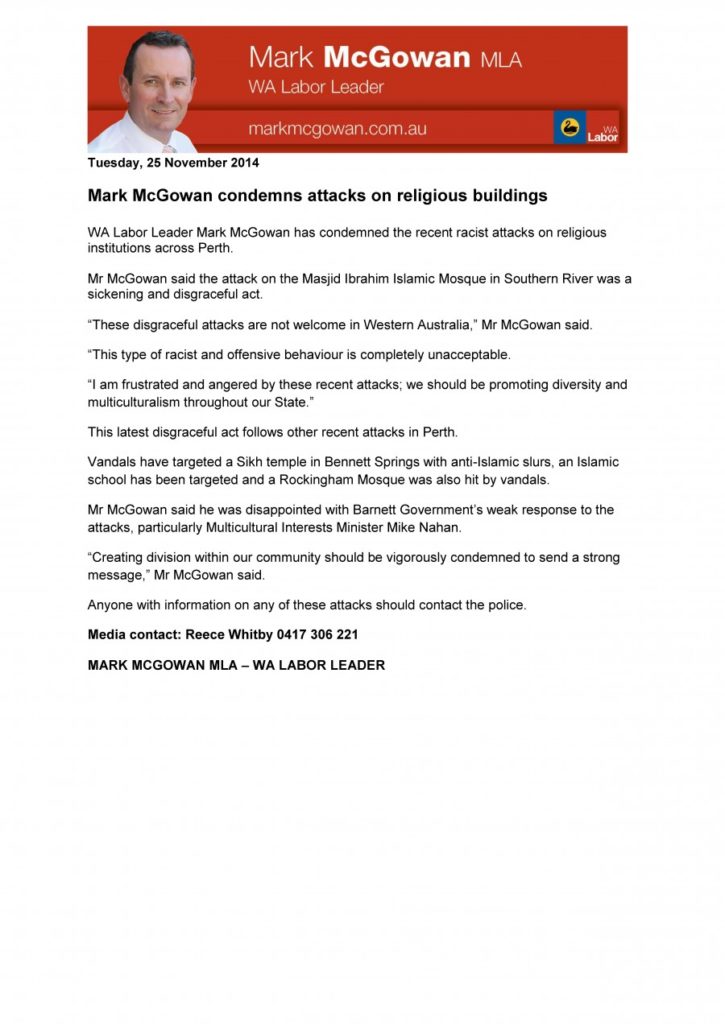 Masjid Al Taqwa (Mirrabooka Mosque) 730am, Ladies Facilities Al Majid (Hepburn) 830am Ladies Facilities Al Hidayah Vasco Hall, 5 Vasco Place Balcatta 745am Ladies Facilities Perth Mosque 1030am Masjid AlRaman 45 Mills Rd Gosnells 830am Ladies Facilities Morley Musallah 7am Bayaan , 730 am Salah Ladies Facilities Lockridge Community Centre cnr Lockridge and Rosher Rd 7am Ladies facilities Kings Park 730am Ladies facilities Whiteman Park 9am Ladies Facilities Turkish Mosque 730am Ladies Facilities Rivervale Community Centre Cnr Francisco & Surray Street No Ladies Facilities 830am Rivervale Masjid , Eid Salah. 8:00 am Ladies facilities Cannington Leisure Centre Seven Oak Street 730am Cannington Showgrounds 8am Thornlie Masjid lecture 715am , Salah 745am Masjid Ibrahim 640am Lecture ,7am Salah ladies Facilities South Perth Community Centre CNR Sandgate & South Terrace 9am Ladies Facilities Al Rukun Rockingham Masjid 830am Ladies facilities Indonesian Consulate 8am ladies Facilities Malaysian Consulate 8am Ladies Facilities 2 June 2015 The Premier of WA Hon Colin Barnett invited Muslim community representatives to a second meeting at the Parliament house. The meeting discussed issues of Muslim youth, politics of radicalisation and vandalism of religious places. WA Police Commissioner's tea invitation was well attended by Muslim organisations for the third year in running. As part of community-building this initiative was of great benefit for community policing enabling confidence and trust in in the local police in areas of crime prevention.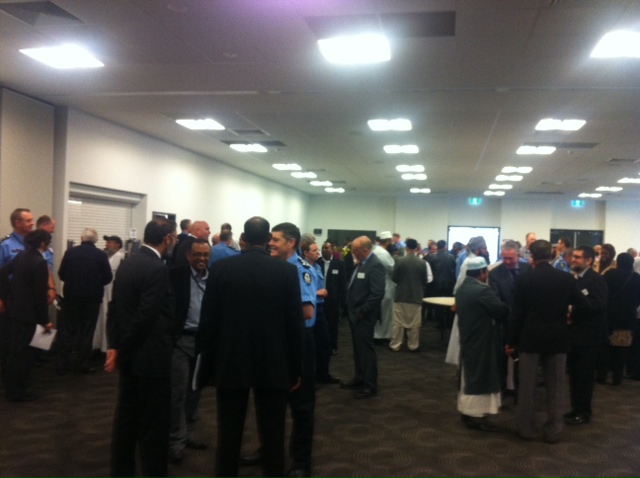 12 April 2015 Leader of opposition Mark McGowan and Shadow Minister for Multicultural Interests Margaret Quirk have introduced a much tougher law known as Criminal Damage to Places of Worship Bill 2015 targeting offenders who criminally damage religious place of worship. Under the proposed toughening of the law criminal damage whether motivated by racism or religious intolerance will attract a maximum penalty of 14 years. The opposition leader said that" recent attacks on places of worship are symptoms of a malaise which must be responded to in a timely, robust and forthright fashion." Islamic Council of WA and Muslim community leaders urge the State government to support the proposed bill to enable stronger enforcement of the law to help preserve religious freedoms of all West Australians. 3 April 2015 Muslim communities across Australia have expressed dismay at the intensity of organised anti-Muslim rallies organised by fringed elements known as " Reclaim Australia". Little is known about this "Reclaim Australia" hate group but local Police and ASIO are keeping a close eye on these types far-right xenophobic people who are seeking to provoke the Muslim community.
16 February 2015 Southern River Mosque ( Ibrahim Masjid) was targeted yet again by anti-Muslim extremists over the weekend. This time the mosque was tagged with racist neo Nazi symbols of the Klu Klux Klan ( KKK). The Muslim community leaders are increasingly frustrated that up till now no police arrests have been made given the fact the mosque has been cowardly targeted and vandalised since last year. One of the positive outcome is that non Muslim Australians and the media are coming out to support its Muslim community. This is a sign that fair-minded West Australians are against this cowardly and vile attack. 22 December 2014 Islamic Motivations organisation held a very successful religious convention over two days at Perth Convention Centre. It was said to be the biggest and one of the best assembly of orators and speakers from the Muslim world attracting very good response from our Islamic community and naturally attracting some distaste from anti-Muslim media reports confirming insecurities and inherent paranoia of the Islamophobes. 17 December 2014
The interfaith ceremony was organised by Mr Suresh Rajan to commemorate the lives of victims of Sydney siege. Islamic Council of WA joined representatives from Perth's diverse religious communities to pray for peace and harmony in Australia.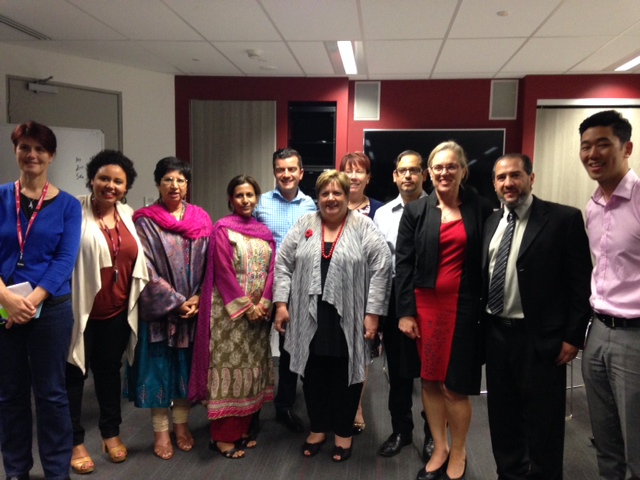 The Premier of Western Australia Hon Colin Barnett (MLA) sent his best wishes on behalf the government of Western Australia to the WA Muslim community. Letter from Premier Colin Barnett [ EID MESSAGE] 2 October 2014 The Premier Hon Colin Barnett MLA met representatives from WA Muslim community yesterday for the first time since introduction of new federal anti-terror laws and joint AFP-ASIO security operations against small groups in the Muslim communities of NSW and Queensland. The meeting was to allay fears and concerns of the Muslim community of WA that they are not unnecessarily survilled or targeted by spies and the police. Isolated incidents of embarrassment and abuse against visible Muslim women were reported in WA and the Premier was worried about this development. The exclusion of WA Muslim community from federal government's 'community consultation' regarding the new anti-terror laws over the last two months was mentioned. "As part of WA community Muslim West Australians have a big role to play in demonstrating a positive image of Islam rather being victimised by negative media portrayals and its moral panics about Muslims" said the President of ICWA. Office of Multicultural Interests (OMI) hand -picked Muslim community representatives said that they want to see the State government provide more police security to Muslim institutions from threats of possible attacks from Far- right Neo Nazis and Hate groups.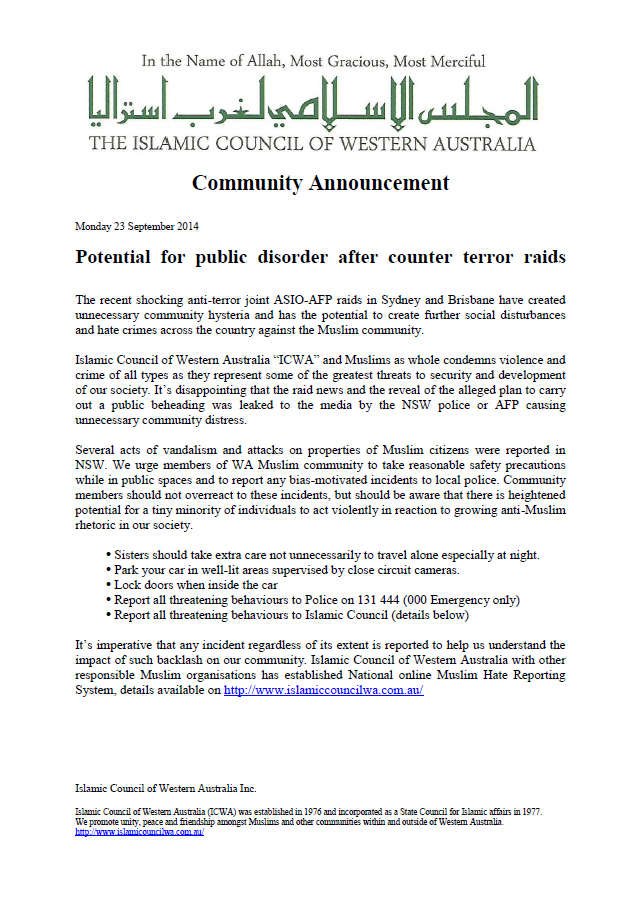 Dr Aly is a Muslim and a counter terrorism analyst at Curtin University who heads the People Against Violent Extremism (PAVE) a private enterprise that studies all forms of extremism in the political or religious ideologies.
She has attracted criticism from both Muslim and non Muslim sectors for her outspokenness. It is unfortunate and rather cowardly that she is targeted in such a manner by extremists and rednecks from the KKK…
Langford Islamic College Perth hosts world class Qu'ran reciters
World class Qu'ran reciters showered Perth's beautiful night with pristine recitation to the awe of local Muslims at Langford Islamic College. What a night! the event saw learned Shaikh Abdurrahman Sadien, Shaikh Ishak Danis and Shaikh Ezzat Rashed recite with such great beauty that left many weeping in the audience. Shaikh Abdul Hafeez Makki from Makkah Mukarramah and a scholar of Hadith also made his presence felt and he added to the rich constellation of learned scholars who was respectfully received by Perth Muslims as they prepare for the holy month of Ramadan. All donations went to Canning Sulemaniye Masjid and event was organised by Turkish Islamic Association of Western Australia.